The "Nexus of Worlds" is in the throes of conflict – who will win out – will it be Virtue or Vice!?!
You can draw them, sculpt them, or even cosplay them! Virtually any creative medium that you send to us in an email will be accepted!
The best part? The grand prize winner will receive a FREE ARTIST ALLEY TABLE for METROCON 2019! That's right fans! The grand prize will once again be a coveted artist alley slot – but that's not all! The runner-ups and other winners, like the Fan Favorite, will win exciting prizes such as medals, convention swag, and weekend passes to METROCON 2019!
REFERENCE ARTWORK CAN BE FOUND BELOW!
What are METROCON Mascots?
Rules and Entrant Information
Entries must include all four mascots to be considered for top prizes. Entries can be a collection of all four mascots together, or separately, or in pairs; just as long as all four mascots are included in the submission. Additionally, artists may submit up to two separate entries into the contest. Entries may not exceed a PG-13 rating. Those that do will be disqualified at the discretion of the METRO judges.
The grand prize winner will receive a free Artist Alley table for METROCON 2019!
To enter the contest, you must email your entry to metroteamcosplay@gmail.com with the subject line "METROCON 2019 Art Contest Entry." The deadline to submit your entry will be March 15, 2019, at 11:59 PM. Late entries will not be accepted for any reason, so do not delay.
For the complete rules and guidelines, please click here for our comprehensive guide, and make sure to fill out an ENTRY FORM available here to submit with your art! By submitting your entry you hereby confirm that you read and understand all terms and conditions and agree to abide by them. You can email Team Cosplay with any questions at metroteamcosplay@gmail.com.
View the Full METROMascot Art Contest Rules
Official Mascot Concept Artwork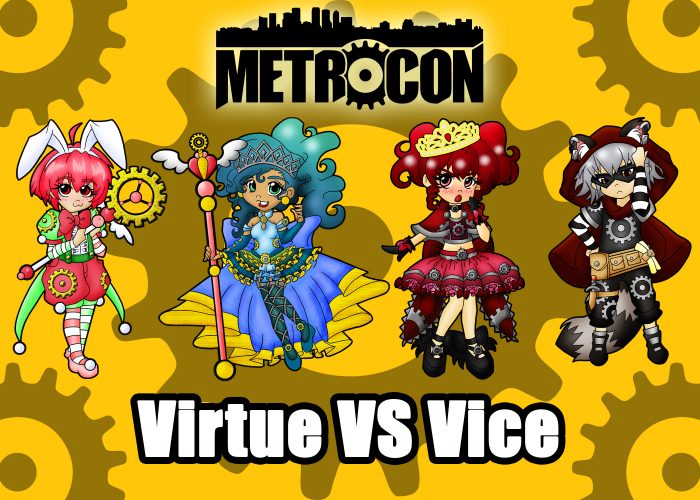 Still need tickets to the event?