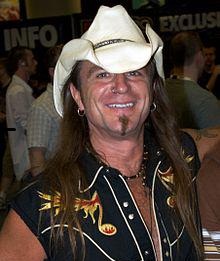 Scott McNeil – Voice Actor
Scott McNeil hails from Vancouver, Canada by way of Brisbane, Australia. He started acting at the age of three and hasn't (his mom would say) stopped since. Spanning over two decades and including over 12,000 episodes, Scott's voice career began with The New Adventures of He-Man way back in (gasp) 1988. He is perhaps best known currently as Duo Maxwell in Gundam Wing, Koga, in Inuyasha, Piccolo (the first) and many others in Dragon Ball Z, Dinobot, Rattrap, Waspinator, and Silverbolt in Beast Wars, Jetfire in Transformers Armada, and Wolverine in X-Men: Evolution, As well as Hohenheim in Full Metal Alchemist, the deeply neurotic Merb Stork in StormHawks, the amazingly inept Voltar in League of Super Evil, Ali al Satchez in Gundam 00, and the inanely musical Flam in My Little Pony. This just in! Scott is now the voice of Durotan in World of Warcraft.
Among his other voice credits are:Ninjago, My Little Pony, He-Man and the Masters of the Universe, Grumpy Bear in Care Bears, Academy Award nominated Sword of the Stranger, Johnny Test, Black Lagoon, Highlander, Quest for Vengance, Rollbots, Spiderman Unlimited Krypto,the Superdog, Reboot, MegaMan, Powerpuff Girls Z, Mucha Lucha, Monster Rancher, Mummies Alive, Ranma 1/2, Project A-Ko, Kong, The Vision of Escaflowne, Bucky O'Hare and the Toad Wars, War Planets, Weird-Oh's, Molly O, Conan the Adventurer, The Wacky World of Tex Avery, Extreme Dinosaurs, DragonTales, Warriors of Virtue, D'Myna Leagues, Aagh It's the Mister Hell Show, Double Dragon, Darkstalkers, Street Fighter, GI Joe, and the animated features Rudolph and the Island of Misfit Toys, and Casper's Haunted Christmas. As well as video games such as World of Warcraft, Nova, League of Legends, Dead Rising II and III, Warhammer 40,000, Scarface, D&D Online, The Godfather
Equally successful in film and television, Scott has starred in the feature films Sleeping with Strangers and Sleeping Dogs, and Scooby Doo II. He has guest starred on numerous television series and features, including The Flash, Falling Skies, Once Upon a Time, Psych, Primeval New World, Supernatural, Sanctuary, Highlander, The Outer Limits, Teenage Mutant Ninja Turtles, Beyond Belief, Beggars and Choosers, Stargate SG-1 and Disney's Ladies and the Champ, to name a few.
This just in: Scott is currently working on a bunch of new roles, including work in Exchange Student Zero, The Deep, Max Steel, SuperNoobs, Johnny Test, L.O.S.E, Hero 108, 1001 Tales of the Arabian Nights ,Strawberry Shortcake, My Little Pony, Numerous Video Games and a number of *cough cough* "Top Secret" Anime Titles. Scott loves cartoons most of all because, "Hey, it's indoor work with no heavy lifting."
When his busy schedule allows, he can be found playing his Level 100 Troll Warlock in World of Warcraft while eating spray cheese…..FOR THE HORDE!!!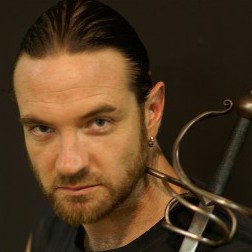 Kyle Rowling – Fight Choreographer
Actor, fight double, action coordinator, and fight director. Kyle is best known for his role as Christopher Lee's fight double in Star Wars: Episode II and Star Wars: Episode III – Revenge of the Sith. Additionally, Rowling was the motion-capture model for General Grievous in Star Wars: Episode III, and portrayed one of the Jedi (Joclad Danva) in the Battle of Geonosis. Rowling worked on the film Wanted, was the action coordinator for films Gabriel and Domestic, and appeared in TV show Spartacus: Blood and Sand, and TV movie Invincible.  Additionally, Rowling was Eric Bana's Personal Weapons Trainer for the movie Troy.
Kyle has been studying acting and martial arts, both Eastern and Western, since he was 8 years old, in 1978. Kyle trained extensively in Eastern Martial Arts for many years, studying Judo, Traditional Ju-Jitsu and Kung-fu. In the early 90's he was introduced to the Western Martial Arts (those of European antiquity) and has been working with both ever since. He has trained with numerous masters of European martial arts and is also now a regular instructor at a variety of international workshops.
Kyle has worked extensively in theatre, film and television over the last 3 decades as an actor, director, Fight Director, Stunt Fight Double, and Assistant Stunt Coordinator. His range of knowledge and experience across such a wide range of skills is unparalleled in Australia. He has taught Stage Combat at all of Australia's leading acting institutes and is an accomplished Shakespearean director. He was the creator and Director of The Sydney Stage Combat School, (which has now become the Action Acting Academy), the President of The Australian Stage Combat Association, the Vice President of The Art of Combat International, a Certified Fight Director with ASCA, AoC & SAFDi, and a member of many different theatrical based organisations such as: MEAA, ASPAH, AACTA, IKTHOF, and the IFDG.
Be sure to check the schedule: Kyle will be teaching workshops in lightsaber and anime-style fantasy sword so you can learn how to do your favorite character's coolest fight moves!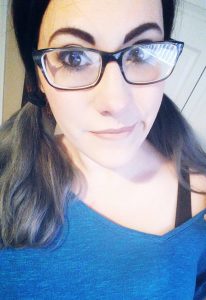 NoFlutter – Guest Artist
Floridian artist NoFlutter is best known for her unique and stylized concepts and characters. NoFlutter found her own artistic vision by spending time studying under artists, such as Tommy Castillo, and apprenticing for Pierre Matisse. After finishing her degree in design at Orlando IADT, NoFlutter made waves nation wide with her unique original designs for Rebel Toons, which were used for costumes for Party City. Along with creating her own art, NoFlutter is a concept artist for indie graphic novel, My So Called Secret Identity. NoFlutter's art has struck a cord in the cosplay community for many years. First being featured on the SyFy's 'Heroes of Cosplay,' for Monica Lee's cosplay of her Alternative Victorian Ivy, her fantastical drawings have been brought to life by many talented cosplayers. Ivydoomkitty, Jessica Nigri, Its Raining Neon, Rei Doll and Ryoko (R&R Cosplay) are just a few names of talented artist who have brought her beautiful creations from paper to walking art. With features on Moviepilot, GeekGirls and many more, the only limit of NoFlutter's artistic odyssey is how many gradients she can fit onto a single piece.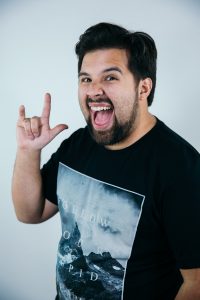 Caleb Hyles – YouTube Star
Disney, Anime, Broadway, top 40: Caleb Hyles has done it all when it comes to cover songs! With his big heart and even bigger voice, Caleb has wowed millions across the globe with a multitude of musical styling and an infectious, positive attitude. Caleb Hyles has a history in musical theater, having grown up in a family of musicians and thespians. There was no doubt that Caleb was born to be an entertainer of some kind!
Caleb has been recognized by the likes of Ryan Seacrest, Tyler Oakley, DeeDee Magno Hall, and many others for his musical prowess. Ever since his viral hit, "Let It Go", dropped in 2014 Caleb has not stopped growing his YouTube channel which has grown over 400k subscribers. By holding Live Q&A's, and random "Skype Nights" with fans, Caleb has nurtured a growing community centered around one-on-one interaction and a common love for all things music. No other performer or YouTube personality does as much for his fans as Caleb does.

He continues to produce new content on a weekly basis and is looking to expand his YouTube reach. Now an official Auburn graduate, he is focused on creating new content along with a new gaming channel, "Peace, Love, and Gaming." Big things are happening with Caleb, and he hopes that anyone and everyone will join him for the ride. As Caleb says at the end of every video, "Peace, love, and metal!!"