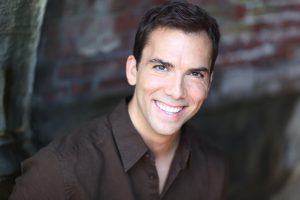 David Matranga – Voice Actor
David Matranga has been working as a voice actor for over 15 years voicing over 100+ roles. From his first lead role as Orphen in Orphen all those years ago, to more recent work in the popular simuldubs, voicing Shouto Todoroki in My Hero Academia, Bertholdt Hoover in Attack on Titan, Kiota in Black Clover and Luke in Garo Vanishing Line, David has been featured in many of the most well known and beloved shows in anime. He has worked for studios such as ADV Films, Funimation, Sentai Filmworks, Sound Cadence Studios and Okratron 5000.
He recently completed the first season of Golden Kamuy playing Tanagaki, and the reboot of Saiyuki with Saiyuki Reload Blast where he stepped back into the shoes of the gun-toting priest, Genjo Sanzo, one of his first lead roles all those years ago. The last few years he has voiced the roles of Ushio in Ushio & Tora, Junker in Planetarian, Silva in Monster Hunters Stories: Ride on, Subaru in Brothers Conflict, Usui Takumi in Maid Sama and Wave in Akame Ga Kill, to name a few. Matranga reprised his role as Briareos in the recent CG-animated Appleseed Alpha and Appleseed XIII: Tartaros & Ouranos films. He also starred in the new Netflix Captain Harlock (Space Pirate Captain Harlock) CG film for its North American theatrical run. His career since 2014 has covered a lot of ground overall. He was the handsome pink-haired doctor Akari in Karneval, Rio Satomi in Hakkenden: Eight Dogs of the East, the Majestic (but not very nice) Prince Jiart, cyborg builder Dr. Easter in Mardock Scramble: The Third Exhaust, and Tomoko's annoyed brother Tomoki Kuroki in WATAMOTE.
Other popular titles include: Tomoya in Clannad, Hideki Hinata in Angel Beats, General Rico in Starship Troopers: Invasion, Halo Legends, Briareos in Appleseed, Appleseed Ex Machina, and Appleseed The Series, Saiyuki, Orphen, Le Chevalier D'Eon, Gilgamesh, Colorful, 5 Centimeters Per Second, High School Of The Dead, and Super Milk Chan to name a few. Genjo Sanzo (Saiyuki), Hisashi Igo (High School of the Dead). His more popular early anime roles include Orphen in Orphen and Sanzo in Saiyuki.
In addition to his prolific list of anime voice work, he also works consistently in the video game and commercial voiceover world, and still spends much of this time on theatrical stages around the country. Fun Fact: He also did the motion capture for the role of General Rico in both animated Starship Troopers films and the character of Briareos in CGI animated Appleseed Alpha. For updates and fun rants, FOLLOW HIM on Twitter @davidmatranga1 and IG @matrangadavid.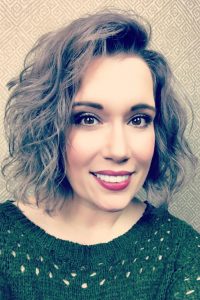 Monica Rial – Voice Actor
Monica Rial has been working in the anime industry for 20 years and she is currently listed as the most prolific anime voice actor in the USA.
She is best known for her work as Bulma in the Dragon Ball franchise but she has lent her voice to over 500 anime including: Black Butler, Cardcaptor Sakura Clear Card, Deadman Wonderland, Fairy Tail, Hello Kitty, Michiko & Hatchin, My Hero Academia, One Piece, OuranHost Club, Panty and Stocking, Saga of Tanya the Evil, Soul Eater, Yuri!!! on Ice, and many more.
She's also appeared in Aqua Teen Hunger Force, RWBY, and several video games including Tales of Berseria, Fire Emblem Echoes, Ms. 'Splosion Man, the Angry Birds series, Monster Tale, Tribes Ascend, Smite, Borderlands 2, Borderlands the Pre-Sequel, Dungeon Boss, and Orcs Must Die! You can follow her on Twitter and Instagram @Rialisms. Be sure to come by and say hello!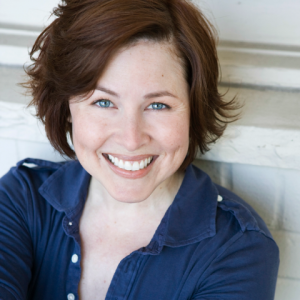 Luci Christian – Voice Actor
nternationally known for her voice work, Luci Christian's career also spans stage, television, radio, industrial, and anything else she can book.
Notable anime roles for Funimation include Ochaco in My Hero Academia, Psiren and Wrath in Fullmetal Alchemist, Nami in One Piece, Kyuta in The Boy and the Beast, Lenalee in D. Grayman, Honey in Ouran Host Club, Asuna in Negima, Alois in Black Butler, Tenma in School Rumble, Rico in Gunslinger Girl, Ophelia in Claymore, Makina in Shikabane Hime, Birdy in Birdy the Mighty:Decode, the Narrator in Kamisama Kiss, Hungary in Hetalia, and Medusa in Souleater.
Credits for Sentai Filmworks include Trixie in Blade Runner: Black Out 2022, Yuki in Food Wars, Chihaya in ChihayafuruCarmen in Starship Troopers: Traitor of Mars, Hestia in DanMachi, Satomi Murano in Parasyte: The Maxim, Deunan in Appleseed, Elsie in the World God Only Knows, Kelly in Halo Legends, Mirai Onozawa in Tokyo Magnitude 8.0, Nagisa in Clannad, Kaname in Full Metal Panic!, Ringo in Air Gear, Mako in Nerima Daikon Brothers, Milia Fallyna in Macross, Haruko in Air, Risa in D.N. Angel, Tetsu in Peace Maker Kurogane, Duck/Tutu in Princess Tutu, Jinpei in Gatchaman and Paiman in Gatchaman Crowds, Sasshi in Magical Shopping Arcade Abenobashi, and Yukari in Azumanga Daioh.
You can also let her read your books on Audible!
She @lucilovesmic on Twitter and can be found online at http://www.lucichristian.com.
Ms. Christian holds an M.F.A. in Acting from Louisiana State University, and when she's not working she's usually happily hanging out with her husband and daughters and trying to use her powers for good.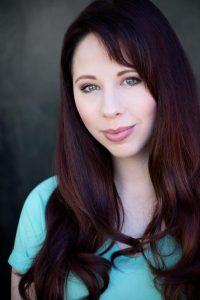 Alexis Tipton – Voice Actor
Alexis Tipton has been working in the dubbing industry since 2008 and has loved every minute of it. She can be heard in over 250 titles so far withmore announcements on the way!
Some of her dub credits include Yoshino Koharu(Sakura Quest), Mei Hatsume (My Hero Academia), Mariella (Black Clover), Kongou(Kancolle), Merle (FUNimation Re-Dub of Escaflowne), Kid Trunks (Dragonball Super), Pearl Fey (Ace Attorney), Chu Chu (Show by Rock!), Hana Midorikawa (Prison School), Tamazo (Puzzle and Dragons X), Honey (Space Dandy), Kazane Aoba (Keijo!!!!!!!!), Rena Kariu(ReLIFE), Kofuku (Noragami), Saya Kisaragi(Blood C/The Last Dark), Inori Yuzuriha/Mana Ouma (Guilty Crown), Rika Shiguma (Haganai), Kurumi Tokisaki (Date A Live), Julia Crichton (FMA: The Sacred Star of Milos), Moka Akashiya(Rosario+Vampire), Musubi (Sekirei), MizukiHimeji (Baka and Test), Yomi Isayama (Ga-Rei: Zero), Sun Seto (My Bride is a Mermaid), and many more (full list of credits can be found on Anime News Network).
On top of anime dub work, her voice can also be heard in a number of video games including NeiR: Automata as Pascal, Tales of Zestiria as Alisha, Fire Emblem Echoes: Shadows of Valentia/FE Heroes as Clair, Fire Emblem Warriors/FE Heroes as Lucina, Lord of Magna: Maiden Heaven as Beatrix and Sarine, Dragon Ball Xenoverse 2 and Dragon Ball FighterZ as Gotenks/Kid Trunks, Mad Nurse Demon/The Forsaken Empress in DreadEye VR, and more. She can also be heard in various foreign live action film dubs, most notably as Kaoru Kamiya in the live action Rurouni Kenshin trilogy.
Alexis is also an ADR director for FUNimation and has directed shows such as Masamune'sRevenge, World End, Restaurant to Another World, Conception, and more. She has also provided vocals for various character songs and a few of FUNimation's trailers. Alexis is also a stage and film actress. She lives and works in Dallas, Texas but also works in Los Angeles, California.
Follow Alexis on Twitter @AlexisTiptonVA or Instagram @alexistiptonactress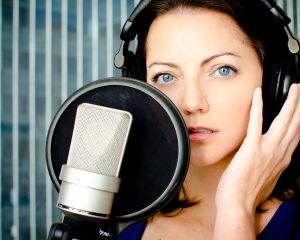 Kara Edwards – Voice Actor
Voice actor, audio geek, photographer, and mom. Kara Edwards is most well known for voicing Goten, Gotenks, and Videl in DragonBall Z and DragonBall Super.  Additional roles include Bubble Girl in My Hero Academia, Chihiro in Danganronpa, Nymph in Heaven's Lost Property, Hikage in Senran Kagura, Aika in High School DxD, Vento of the Front in A Certain Magical Index II, Teddy in Last Exile, Murugu in Yu Yu Hakusho, Eternal Feather in Soul Eater Not!, Female Russia in Hetalia, Lil in One Piece, Pipimi in Pop Team Epic, Mina in Darker Than Black, Patty Baldwin in The Sacred Blacksmith, Febrie and Tesso in A Certain Scientific Railgun S, and many more.
Popular game characters include Gotenks and Videl in FighterZ, Athena in Smite, and Shayne and Sister Aria in Battleborn.
Outside of anime, Kara can be heard on TV and radio voicing projects for clients such as Barbie, Nintendo, Subway, Coca-Cola, Sports Illustrated, Kenmore, Shopkins, State Farm, and many more!  For more information, check out www.karaedwards.com.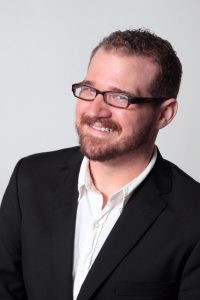 Josh Grelle – Voice Actor
Josh Grelle is a voice actor who is well known for his work on Attack on Titan portraying the character, Armin Arlert. Grelle has voiced a plethora of anime characters over the years such as Ox Ford in Soul Eater, Blacksnake in Fairy Tail, Issei Hyodo in Highschool DXD, Tyrian Callows in RWBY, and Fumikage Tokoyami in My Hero Academia.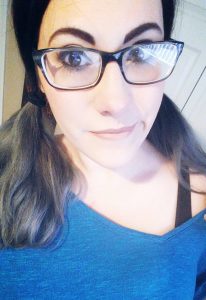 NoFlutter – Guest Artist
Floridian artist NoFlutter is best known for her unique and stylized concepts and characters. NoFlutter found her own artistic vision by spending time studying under artists, such as Tommy Castillo, and apprenticing for Pierre Matisse. After finishing her degree in design at Orlando IADT, NoFlutter made waves nation wide with her unique original designs for Rebel Toons, which were used for costumes for Party City. Along with creating her own art, NoFlutter is a concept artist for indie graphic novel, My So Called Secret Identity. NoFlutter's art has struck a cord in the cosplay community for many years. First being featured on the SyFy's 'Heroes of Cosplay,' for Monica Lee's cosplay of her Alternative Victorian Ivy, her fantastical drawings have been brought to life by many talented cosplayers. Ivydoomkitty, Jessica Nigri, Its Raining Neon, Rei Doll and Ryoko (R&R Cosplay) are just a few names of talented artist who have brought her beautiful creations from paper to walking art. With features on Moviepilot, GeekGirls and many more, the only limit of NoFlutter's artistic odyssey is how many gradients she can fit onto a single piece.
Clockwork Carousel Creations – Guest Panelists
Clockwork Carousel Creations is founded on the belief that anyone can create anything. Specializing in advanced materials, we aim to entertain and educate from hot glue to faux fur to silicones.
Based in Orlando, FL. Clockwork Carousel Creations has been hosting panels at METROCON since 2012. Over the years our skills have grown to include special FX makeup, prosthetics, silicone molds, and resin-casting, which has earned us a sponsorship by Smooth-On, Inc. and Reynolds Advanced Materials.
Come to our workshops, and leave with your own custom creation; sit in on our FX panel to learn how to warp your features, or test your knowledge and skills in our Trivia Challenge.
Together, we keep creativity running like clockwork.
Follow our adventures and keep up with our giveaways on our pages.
Facebook: https://www.facebook.com/ClockworkCreations/
Instagram: https://www.instagram.com/clockworkcarouselcreations/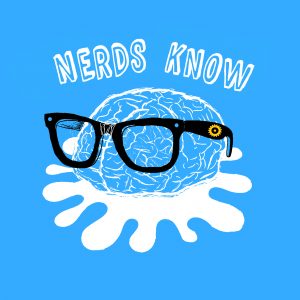 Nerds Know – Guest Panelists
Nerds Know is the premiere entertainment panel group of South Florida. This collective of talented nerds has extensive knowledge in virtually every field that would matter to geeks, nerds, and otaku alike! Disney, Retro TV, Anime, Japanese culture, cartoons, all things retro, comics, and institutional convention knowledge are just a few of the topics the Nerds Know has under their belts. But don't get too comfortable in your seats, as their events all have huge audience participation, so you won't have a chance to be bored in your seats!
Individually Nerds Know members have been hosting panels for over ten years but officially joined forces in 2016 to pool their collective talents. The group is made of convention veterans, college professors, and convention professionals. They have seen it all and want to share their love of all things nerdy with you!
You can follow them on Facebook & Instagram to stay up to date on all of their upcoming shows, plans, and giveaways!
Facebook: https://www.facebook.com/Nerds.Know/
Instagram: https://www.instagram.com/nerdsknow/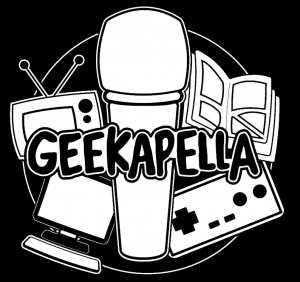 Geekapella – Performance Guests
Get your geeky music game on with Geekapella, an a cappella group specializing in songs from anime, cartoons, video games, and pop culture.
Based in Orlando, FL, this geeky group of singers is here to bring you fun, singing, dancing, cosplay, games, and laughter abound!
Enjoy a live performance featuring songs from the likes of Dragonball Z, Mario, and other fandoms you won't want to miss!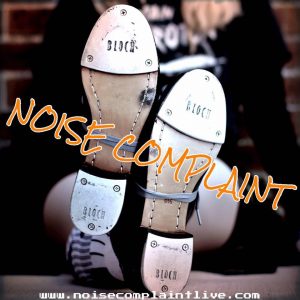 Noise Complaint – Performance Guests
Noise Complaint presents a live Cosplay Tap Dance Theatre show! Noise Complaint is a group of professional tap dancers who perform full sets of choreographed dances as characters from Marvel Comics, RWBY, Disney, Old School Cartoons and more. Noise Complaint's dances are choreographed using music that is either directly taken from or inspired by currently trending or favorite movies, TV shows and video games. Their show brings to life epic battles and famed alliances on the stage and combines it with entertaining choreography and catchy rhythms!