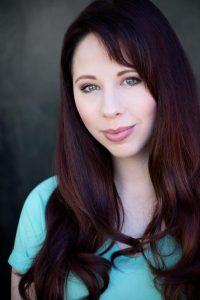 Alexis Tipton – Voice Actor
Alexis Tipton has been working in the dubbing industry since 2008 and has loved every minute of it. She can be heard in over 250 titles so far withmore announcements on the way!
Some of her dub credits include Yoshino Koharu(Sakura Quest), Mei Hatsume (My Hero Academia), Mariella (Black Clover), Kongou(Kancolle), Merle (FUNimation Re-Dub of Escaflowne), Kid Trunks (Dragonball Super), Pearl Fey (Ace Attorney), Chu Chu (Show by Rock!), Hana Midorikawa (Prison School), Tamazo (Puzzle and Dragons X), Honey (Space Dandy), Kazane Aoba (Keijo!!!!!!!!), Rena Kariu(ReLIFE), Kofuku (Noragami), Saya Kisaragi(Blood C/The Last Dark), Inori Yuzuriha/Mana Ouma (Guilty Crown), Rika Shiguma (Haganai), Kurumi Tokisaki (Date A Live), Julia Crichton (FMA: The Sacred Star of Milos), Moka Akashiya(Rosario+Vampire), Musubi (Sekirei), MizukiHimeji (Baka and Test), Yomi Isayama (Ga-Rei: Zero), Sun Seto (My Bride is a Mermaid), and many more (full list of credits can be found on Anime News Network).
On top of anime dub work, her voice can also be heard in a number of video games including NeiR: Automata as Pascal, Tales of Zestiria as Alisha, Fire Emblem Echoes: Shadows of Valentia/FE Heroes as Clair, Fire Emblem Warriors/FE Heroes as Lucina, Lord of Magna: Maiden Heaven as Beatrix and Sarine, Dragon Ball Xenoverse 2 and Dragon Ball FighterZ as Gotenks/Kid Trunks, Mad Nurse Demon/The Forsaken Empress in DreadEye VR, and more. She can also be heard in various foreign live action film dubs, most notably as Kaoru Kamiya in the live action Rurouni Kenshin trilogy.
Alexis is also an ADR director for FUNimation and has directed shows such as Masamune'sRevenge, World End, Restaurant to Another World, Conception, and more. She has also provided vocals for various character songs and a few of FUNimation's trailers. Alexis is also a stage and film actress. She lives and works in Dallas, Texas but also works in Los Angeles, California.
Follow Alexis on Twitter @AlexisTiptonVA or Instagram @alexistiptonactress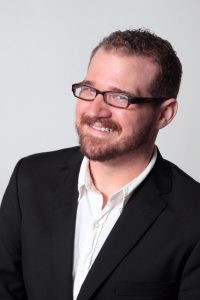 Josh Grelle – Voice Actor
Josh Grelle is a voice actor who is well known for his work on Attack on Titan portraying the character, Armin Arlert. Grelle has voiced a plethora of anime characters over the years such as Ox Ford in Soul Eater, Blacksnake in Fairy Tail, Issei Hyodo in Highschool DXD, Tyrian Callows in RWBY, and Fumikage Tokoyami in My Hero Academia.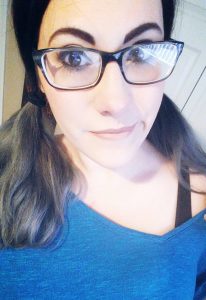 NoFlutter – Guest Artist
Floridian artist NoFlutter is best known for her unique and stylized concepts and characters. NoFlutter found her own artistic vision by spending time studying under artists, such as Tommy Castillo, and apprenticing for Pierre Matisse. After finishing her degree in design at Orlando IADT, NoFlutter made waves nation wide with her unique original designs for Rebel Toons, which were used for costumes for Party City. Along with creating her own art, NoFlutter is a concept artist for indie graphic novel, My So Called Secret Identity. NoFlutter's art has struck a cord in the cosplay community for many years. First being featured on the SyFy's 'Heroes of Cosplay,' for Monica Lee's cosplay of her Alternative Victorian Ivy, her fantastical drawings have been brought to life by many talented cosplayers. Ivydoomkitty, Jessica Nigri, Its Raining Neon, Rei Doll and Ryoko (R&R Cosplay) are just a few names of talented artist who have brought her beautiful creations from paper to walking art. With features on Moviepilot, GeekGirls and many more, the only limit of NoFlutter's artistic odyssey is how many gradients she can fit onto a single piece.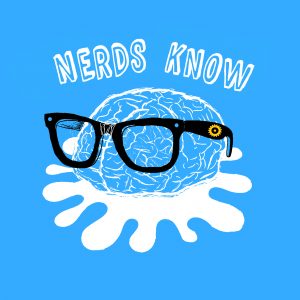 Nerds Know – Guest Panelists
Nerds Know is the premiere entertainment panel group of South Florida. This collective of talented nerds has extensive knowledge in virtually every field that would matter to geeks, nerds, and otaku alike! Disney, Retro TV, Anime, Japanese culture, cartoons, all things retro, comics, and institutional convention knowledge are just a few of the topics the Nerds Know has under their belts. But don't get too comfortable in your seats, as their events all have huge audience participation, so you won't have a chance to be bored in your seats!
Individually Nerds Know members have been hosting panels for over ten years but officially joined forces in 2016 to pool their collective talents. The group is made of convention veterans, college professors, and convention professionals. They have seen it all and want to share their love of all things nerdy with you!
You can follow them on Facebook & Instagram to stay up to date on all of their upcoming shows, plans, and giveaways!
Facebook: https://www.facebook.com/Nerds.Know/
Instagram: https://www.instagram.com/nerdsknow/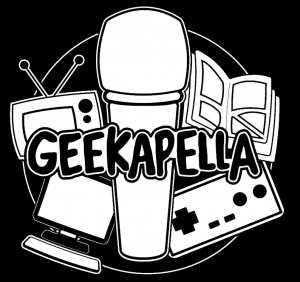 Geekapella – Performance Guests
Get your geeky music game on with Geekapella, an a cappella group specializing in songs from anime, cartoons, video games, and pop culture.
Based in Orlando, FL, this geeky group of singers is here to bring you fun, singing, dancing, cosplay, games, and laughter abound!
Enjoy a live performance featuring songs from the likes of Dragonball Z, Mario, and other fandoms you won't want to miss!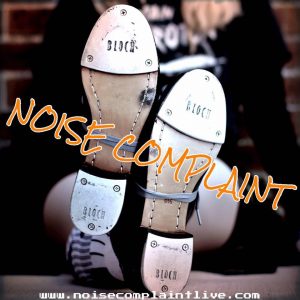 Noise Complaint – Performance Guests
Noise Complaint presents a live Cosplay Tap Dance Theatre show! Noise Complaint is a group of professional tap dancers who perform full sets of choreographed dances as characters from Marvel Comics, RWBY, Disney, Old School Cartoons and more. Noise Complaint's dances are choreographed using music that is either directly taken from or inspired by currently trending or favorite movies, TV shows and video games. Their show brings to life epic battles and famed alliances on the stage and combines it with entertaining choreography and catchy rhythms!