METROCON wants you to get your LARP on!
All four days of METROCON, we will have a Live-Action Role Playing dungeon for you to slay monsters, solve puzzles, avoid traps, and more!
The METROCON LARP Dungeon is sponsored and put on by Mythic Adventures LARP – you can learn more about Mythic Adventures by visiting their Facebook Group!
Get a group of your friends together and get ready to slay some monsters! The METROCON LARP Dungeon is included with your METROCON pass (single day OR weekend), and is an awesome interactive experience for the whole family!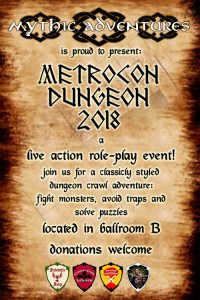 Learn more about Mythic Adventures LARP!
More Information
While this is an immersive LARP-style event, you don't need to be wearing a costume to play! If you join Mythic Adventures and head to their events throughout the year, you'll get to create your own character and costume, but for this dungeon crawl, it's much more casual.
Expect to be encountered with monsters, swinging LARP-safe foam weapons, and casting spells and abilities in the dungeon! Can you make it out alive?? There might even be a prize if you can!
The dungeon will be run in shifts to accommodate as many players as possible. Please see the booth outside of Ballroom B and register yourself (or your group!) for a time slot. Time slots fill up quickly, so make sure to get registered early and be there on time! Dungeon crawls take typically around 45 minutes to one hour per session. We do kindly ask that after participating once, make sure that other folks get to participate – if there are open sessions as the weekend progresses feel free to sign up, or considering joining as a single player and filling in a group's missing link!
Please be advised – the LARP Dungeon can include dark areas, flashing lights, intense sounds, physical activity, and more – this event could be considered something like a haunted house, where you have a chance to win – if you require special accommodations to participate, please see the Mythic Adventures staff at the event, and they will do their best to accommodate.
If you have any questions about the LARP Dungeon at METROCON, please feel free to contact Mythic Adventures LARP on Facebook at the links above!
Still need tickets to the event?